We provide mission support and solutions to improve decision-making, solve problems, and achieve goals. To us, integrity is everything. That is why we will never promise you the world.
Seamless extension of your team focused and dedicated to helping to defend your assets.
Develop custom mission-focused solutions that are easily integrated into your business.
Provide a dedicated team of experts with functional experience in law enforcement, criminal investigations, anti-terrorism, counter-terrorism, force protection, fraud investigations, and security backgrounds.
Project Management Services

Migrate Applications to the Cloud
Modernize Operations and Systems
Provide Restructuring and Transformation Services
Cloud Engineering, Operations, and Consulting Services
Software Development
Configuration Management
Installation, Relocation, and Refreshment Services

Implement Agile at Scale
Systems Administration Services
Cloud Migration
Network Administration Services
Engineering Services
Testing, Lab As-a-Service, and PreProduction Services
Service Desk Management
Cybersecurity and Information Assurance
Training Services
Acquisition Services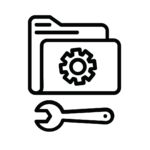 Business Process Reengineering
Management Consulting Services
Human Capital Management
Enterprise Risk Management
Records and Data Management